"I live in Florida." Aside from orange juice and theme parks, Florida is known for having some of the worst drivers and the most incidents of road rage in the United States (the two are probably related). Statistics like these make people think that having a readily accessible gun in the cab of their vehicle is a good idea. The thinking goes that if road rage is so common, then I need a gun in my car to deal with that potentially violent encounter. Many people then think that the best way to have a gun at the ready in the car is to use a "car holster" or something similar. But it's not, as I will explain below.
CAR HOLSTER PROBLEM NUMBER ONE: YOUR VEHICLE IS NOT A GUN SAFE
The sleepy little town where I live recently had a rash of burglaries, especially car break-ins. For a town of just over 3,000 people, 6 car break-ins in one month is a crime wave of unspeakable proportions. People were upset that our tightly-knit community was no longer "safe." What people weren't talking about, though, was how all of this started. About a month before the break-ins became commonplace, my neighbor posted on social media about how someone had stolen a Glock 30 and other valuables from his car in the middle of the night. The next thing we knew, all of our cars were fair game for crooks. Why? To a criminal, guns are worth more than cash. If a thief can steal a gun, he or she has quite literally hit the jackpot.
CAR HOLSTER PROBLEM NUMBER TWO: YOU DON'T LIVE IN YOUR CAR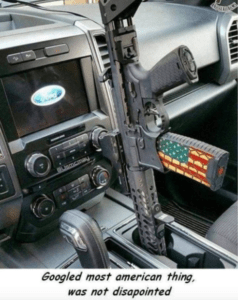 Yes, it's a car holster, and it's very, very American, but it's still a bad ideaWe've all seen advertisements for "car holsters" pop up on the internet. At first glance, they seem like a good idea. Road rage is a real thing, we say, so it's a good idea to have a gun at the ready in case someone approaches our car with bad intentions. But what happens when you park your car? We've already established that leaving the gun out and unsecured is a bad idea because it's a crook magnet. So what do you do with your gun if you're using a car holster?
You have two options:
If you're leaving your car for somewhere you can carry your gun, then you can holster your gun and take it with you. This is the better of the two options because life-threatening incidents can happen anywhere, not just on the freeway.
Otherwise, you can place your gun in a more secure location inside your car, such as a lockable gun safe.
In my opinion, neither of these options is all that great because they both require administrative gun handling. Statistically, the more you handle a loaded gun, the better your chances for a negligent discharge. Increasing administrative gun handling increases your risk of a negligent discharge.
THE BEST WAY TO CARRY A GUN IN YOUR CAR IS…
How can you safely carry a gun inside your car? It turns out that the best way to carry a gun inside your car is also the best way to carry a gun outside your car. That is, on your body, in a good holster that is secured by a good gun belt.
Carrying your defensive pistol on you solves the problem of leaving your gun in your car overnight to be stolen by thieves. It also eliminates administrative gun handling inside your vehicle. As an added bonus, your gun will be with you should you need it, rather than languishing in your car as you go about your business.
"But Kevin," I hear you say, "what about draw speed? If I'm in my car, how can I quickly get my gun into play if it's in my holster?" The answer is simple: the same way you learned to quickly access your firearm when you're walking down the street. That is, with consideration for your environment and plenty of practice.
STAYING SAFE NO MATTER WHAT HAPPENS
Continue reading and watch the video at Ammoman School of Guns