Wyoming -(Ammoland.com)- The Wyoming Game and Fish Department (WGF) has released a final report on the grizzly bear attack that killed hunting guide Mark Uptain and injured his client, Corey Chubon.
The report confirms previous information that the Glock pistol was found without a round in the chamber, and separated from its magazine. The magazine was fully loaded with 15 rounds of F C flat nosed full metal jacketed rounds. The pistol had not been fired.
At some time during the attack, bear spray was used by Mark Uptain. The bear spray can was emptied. The grizzly sow was reported to have a strong odor of bear spray about her head.
Below is a hand sketch of the relationship of various items found at the scene by the investigators: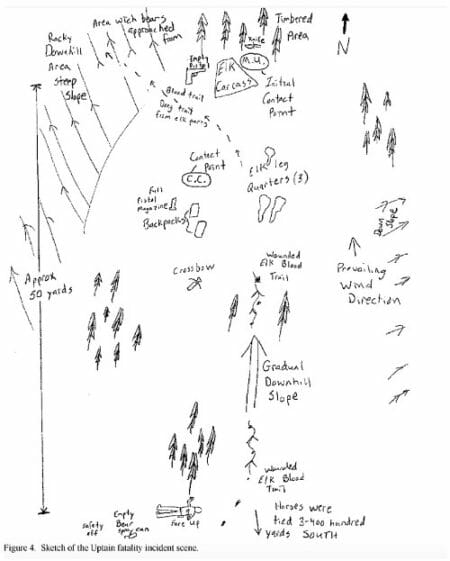 The weather was warm enough to compel Uptain to take off his shirt. Unfortunately, Mark Uptain also took off his holstered Glock 10mm.
The Glock pistol, in a shoulder holster, had been placed with the packs, about 5-10 yards from the elk carcass.
He placed it too far from him to be accessed before the sow reached him. By doing that, he negated one of the greatest advantages of pistols for defensive use. The advantage is having a gun on your person when you need it. Holstered pistols free up both hands to do other things.
To sum up the events: The guide, Mark Uptain, and his client, Corey Chubon, were processing the bull elk they had recovered. The elk carcass had not been molested by any predators. They