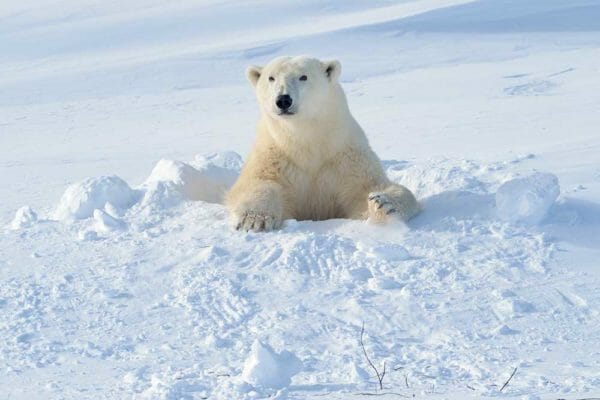 U.S.A. –-(AmmoLand.com)-– Far above the Arctic Circle, on December 18, 1983, a man was attacked by a sow polar bear and her cub, without provocation, on King Christian Island. Colleagues were able to stop the bears from killing and eating the victim. A colleague drove off the bear using a front-end loader in spite of repeated attempts by the sow to retake possession of the wounded man.  The arrival of a pickup truck with an armed passenger resulted in the sow being wounded and both bears were driven off. The man survived.
The incident was revealed in the Freedom of Information Act (FOIA) response obtained by AmmoLand from the Department of the Interior.
Because the names of the people involved have been redacted, pseudonyms have been used to make the account more readable. Panarctic Oils was conducting an exploration of arctic resources in 1983. One of their bases was on King Christian Island in the Canadian arctic.
FOIA, Incident 30, Panarctic Oils Limited, King Christian Island December 18, 1983, Canadian arctic.
Pseudonyms:
Dave, the victim of bear attack.
Joe, Dave's partner who ran for help, notified the other players, and obtained the gun which was available on site.
Bill is the front-end loader operator, and Eric is the pick-up truck driver.
From the FOIA, as reported by bear researchers, with pseudonyms added and lightly edited for clarity:
It was dark outside. At 12:45 a.m. Dave and Joe went to dump the garbage and pump water. Joe was getting ready to pump water when Dave came walking around the corner with a polar bear right behind him. Joe started running to