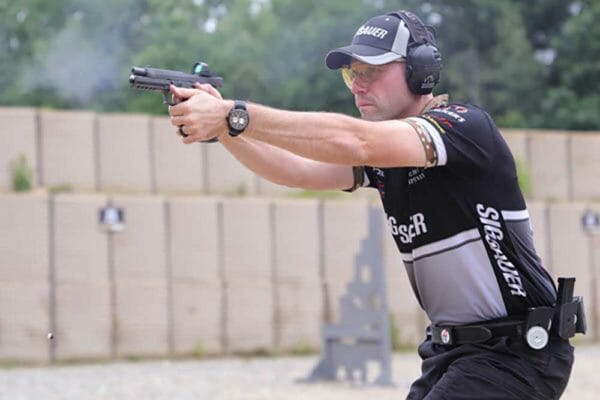 NEWINGTON, N.H. –-(Ammoland.com)- SIG SAUER, Inc. congratulates Team SIG Captain Max Michel on his recent first place finishes at the 2019 USPSA Carry-Optics Nationals in St. George, Utah, and the USPSA Area 59 Championship in Rosenberg, Texas. Michel's impressive first place finishes to close out the 2019 season mark four years of being undefeated in USPSA Carry-Optics competition.
"It's great to see Max defend his National Championship title in Carry-Optics and continue his reign over the Carry-Optics Division within the USPSA professional shooting organization," began Tom Taylor, Chief Marketing Officer and Executive Vice President, Commercial Sales, SIG SAUER, Inc. "As carry-optics continues to gain significant popularity in the commercial market, Max has proven himself to be an integral part of the research, development, and success of our carry-optics product line, including the recent introduction of the ROMEO3MAX."
To claim his 2019 USPSA National Carry-Optics Championship Title, and the first place finish at the Area 59 Championship, Michel competed with the P320 XFIVE LEGION, SIG SAUER Electro-Optics ROMEO3MAX, and SIG SAUER Ammunition 9mm, 147gr. Match Elite Competition Ammunition.
"In four straight seasons I've been undefeated in USPSA matches competing with the P320 XFIVE. Collectively, across all competitions, I have logged nearly 100 match wins with the P320, and this is proof that the pistol is unmatched when it comes to accuracy," added Michel. "In the 2019 season I began competing with the newly introduced P320 XFIVE LEGION and the ROMEO3MAX, and the combination, along with the SIG Match Elite Ammunition really helped to elevate my competition."
The SIG SAUER equipment used by Team SIG Captain Max Michel, including the SIG SAUER Electro-Optics ROMEO3MAX and 9MM SIG Match Elite Competition