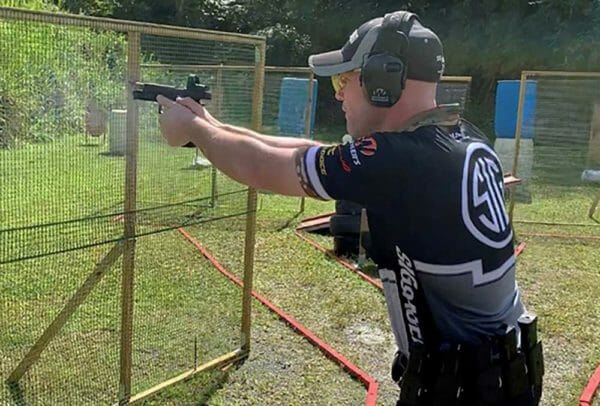 NEWINGTON, N.H. –-(Ammoland.com)- SIG SAUER, Inc. congratulates Team SIG Captain, Max Michel for his first place finish in the Carry Optics Division at the 2019 Caribbean Open held February 8th – 10th at the RL Training Center in Caguas, Puerto Rico.
"Max is setting a high bar for Team SIG for the 2019 competitive shooting season, and we are very proud of his dominating performance in the carry optics division," began Tom Taylor, Chief Marketing Officer and Executive Vice President, Commercial Sales, SIG SAUER, Inc. "As a professional shooter for Team SIG, Max has developed a great partnership with our product engineers. Using his invaluable insight and optics experience as a premier competitive shooter, SIG SAUER Electro-Optics has developed the ROMEO3MAX Open Reflex Sight that he's currently competing with, and we are looking forward to bringing it to the commercial market."
To claim his first place finish at the 2019 Caribbean Open, Max competed through 15 courses of fire, winning 14 using his P320X5, the newly developed ROMEO3MAX open reflex sight, and SIG SAUER Match Elite Pistol Competition Ammunition.
"Once again I ran the ROMEO3MAX Open Reflex sight throughout the Caribbean Open and it performed flawlessly. The weather conditions throughout the competition were intense and the functionality and capability of the sight were impressive as I was able to easily transition through the stages," added Michel. "I am really looking forward to the commercial release of the optic in July and have no doubt it will quickly become the premier optic of the action shooting sports."
The ROMEO3MAX is a compact, open reflex sight featuring a 30mm Max round lens design for superior field-of-view, a special red-notch filter for vivid red dot