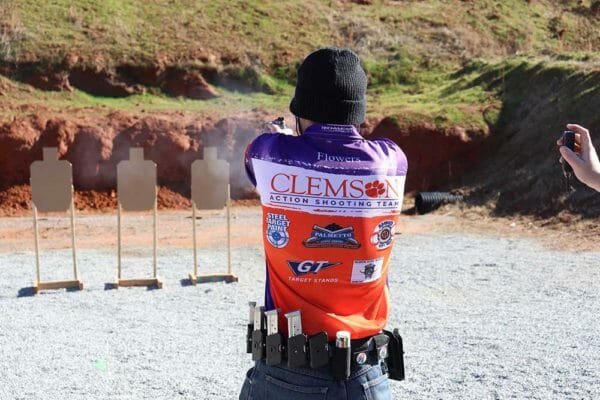 U.S.A. –-(Ammoland.com)- Ryan Flowers, at just 22 years old is the 1st and only 11-division Steel Challenge Grand Master and the 2019 Steel Challenge Single Stack World Champion. But we all begin somewhere.
"I was watching Shooting USA on the Outdoors Channel and saw coverage of the USPSA Nationals," says Flowers. "I saw all the big pros like Max Michel run the course and I thought it was pretty cool." Like many new shooters, Ryan found his first competition by doing an internet search that came back with a local IDPA match he could try his hand at. "I did pretty bad," chuckled Flowers. "I thought I could shoot before I got there and ended up finishing in the middle of the pack. This lit a fire under me to practice and get better."
From then on, Ryan began finding action shooting sports like USPSA and Steel Challenge to compete in and like many of our athletes, he and others formed their own SASP team at Clemson University. When asked how he got involved in the Scholastic Action Shooting Program, he plainly responded, "There wasn't a shooting team, so we made one. Andrew Jezewski contacted me once the team was established and at first, I wore a lot of hats. Founding member, President, Recruitment Manager, Training Scheduler, you name it. We wanted to create a team-based experience for Clemson students, so the SASP was the perfect program for that."
By this time Ryan had already started making a name for himself as an individual competitor, especially in the world of Steel Challenge. The action shooting sports typically foster friendly and supportive communities, despite the fast and fierce competition.
However, Ryan soon understood the